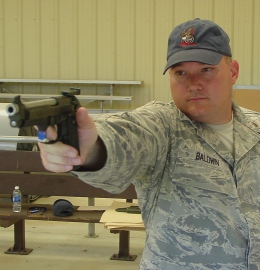 Maj Herman "Fred" Baldwin, II

AFOTEC, Det 2
Eglin AFB, FL


Hometown: Warner Robins, GA

Primary team member
Team member since 2011
Classification: EX
Distinguished Pistol Shot (USAF Badge# 420)
Personal best scores:
.22 (900) - 839-27x, Austin Rifle Club, Austin, 21 April 2013
.45 (900) - 824-16x, Huston, TX, 31 March 2013
AGG (2700) - 2428-68x, Austin Rifle Club, Austin, 21 April 2013
SP (300) - 262-3x, Bayou Rifles, Bellaire, TX, 27 May 2012
Other accomplishments
General Curtis LeMay Trophy, Camp Perry, 2017
President's Hundred - 2017 National Trophy Matches, Camp Perry, OH
General Twining Trophy, Camp Perry, 2016
2014 Oklahoma State Championship - Overall Champion
2010 Texas State Service Pistol Championship - 1st Place Marksman Class
How I got started shooting
I started shooting at an early age with my dad, grandfather and uncle during summer vacations. I did not shoot again until I became a Cubmaster for one of the local Cub Scout Packs in San Antonio, TX. I was volunteered, by my lovely wife, to be the BB Gun and Archery instructor for four consecutive summer camps. I remembered how fun it was and one day one of my Airmen, from Wilford Hall Medical Center, came to me looking for help on how to get started shooting pistols and earn an EIC medal. We found the team contact information on the web and proceeded to make contact with TSgt McGloin to get started. Before I knew it I was hooked!
Current training locations